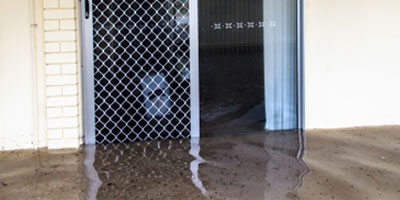 Whatever size overflow or flooding you're facing, it's likely you need to bring in water damage specialists immediately.  We'll explain exactly why after first going over the basics of water damage.
Types of Flooding
Nearly all professional cleaning and restoration companies follow IICRC's S-500 Standards for water damage restoration.  Those standards include assessment based on the source of the water and the extent flooding (along with other factors) and then determining the best course of action based on that (http://www.iicrc.org/the-basics-water-damage-restoration-training-a-23.html).
Source of Water
It doesn't take a major storm or a knee-deep basement flood to require professional water damage restoration services.  Given time even a leaking ice-maker line can cause damage.  A tiny 1/8 inch long crack in a pipe will leak some 250 gallons a day, and that can be hidden inside a wall or under the floor as a slab leak, calling for leak detection services just to find it.  Other common sources include toilet overflows, burst washing machine hoses, faulty dishwasher connections, a faulty fire sprinkler system, and a leaky roof.
Amount of Water
The IICRC defines 4 classifications for the extent of water.
Class 1:  only part of single room, with no or only a small area of wet carpet and only plywood or concrete affected
Class 2:  an entire room (or more), wet carpets, wetness wicking a foot up walls, and moisture reaching the inner structure
Class 3:  carpet, flooring, sub-floor, walls, and insulation saturated; ceilings may be saturated from an overhead source
Class 4:  even hardwood, stone, and are brick saturated with exceptional drying measures required
Category of Water
Each class of water is defined by how much of a health hazard it poses.
Category 1:  from a sanitary source
Category 2:  (gray water) has contaminants such as from a dish washer, washing machine, or sink
Category 3: (black water) is highly unsanitary such as from a toilet overflow, sewer backup, or natural flooding (including seawater)
Given time each category degrades into the next.  Category 2 (or even 1) can degrade into Category 3 in as little as 24 hours.
Why You Need to Take Action Immediately
So the health issues of just a day's delay should be obvious.  And with all that moisture common household molds can become a big problem in as little as one to two days.  Besides the building itself, furniture and other possessions are soon harmed without prompt intervention by cleaning and restoration specialists.
Damage Mitigation
Water immediately soaks in, penetrating deeply into anything porous including flooring, sub-flooring, insulation, and wallboard.  But it takes weeks, sometimes even a month or more, to fully evaporate.
The structure and contents will suffer secondary damage if not prevented during the critical first 1-2 day window.  Hardwood floors warp and cup, drywall and plaster crumble, and plywood and paneling de-laminate.  Even the wooden structure itself will warp and split.  Given a bit more time wood rots, wiring corrodes, metal rusts, and even concrete weakens.
Insurance Coverage
Most homeowners' policies do cover water damage removal from plumbing, sewer, and drain problems provided you've been taking reasonable home or commercial building maintenance measures.  But if the proper mitigation steps aren't taken the insurance company will deny claims for any such secondary damage that might occur.  Anything resulting from bad weather is usually considered flood damage and not covered unless you have the proper insurance "rider."
Professional Cleaning and Restoration Services
Quite simply, the longer you wait the more progressive damage there will be.  And the key to preventing secondary damage is to remove all excess moisture as quickly as possible.
As noted at https://en.wikipedia.org/wiki/Water_damage_restoration, there are no government regulations specifying the actual procedures.  Instead those standards are set by independent non-profit organizations such as the IICRC and RIA.  Although there is no specific classification for damage removal, water damage restoration, mold remediation, and carpet cleaning any sort of construction company is regulated by California's State Contractor's Board.  So when choosing professional services you should insist on a contractors license and IICRC or RIA certified technicians.
Every situation is different, but here is a list of the services you might need.
Loss Assessment and Documentation (for insurance claims, including sorting into unharmed, salvageable, and unsalvageable possessions)
Pump Out and Sanitation
Debris Cleanup
Pack Out and Storage (remove furniture and other belongings from the wet environment for treatment and storage elsewhere)
Water Extraction
Structural Drying (using specialized drying equipment while monitoring temperature, humidity, and moisture content at least daily)
Odor Removal
Water Damage Repair
Carpet Cleaning (if there's no sewage contamination and with prompt and proper mitigation carpet can often be saved)
Disaster Cleanup Better Restorations DKI
Our company has been serving the Southern California with residential and commercial water damage restoration services since 1974.  Our technicians are IICRC certified in a wide range of specialties and are on-call 24 hours a day 7 days a week for a fast emergency response.