Big or small, facing the aftermath of a fire is difficult.  Are you worried about lingering smoke odors?  Did you know that smoke and soot are also toxic and corrosive?  Proper cleanup and smoke removal requires so much more than household cleansers and some elbow grease.  So call the smoke and odor removal experts immediately.  Otherwise those odor compounds will soon penetrate so deeply that no one can remove them.
That's why our certified fire and smoke team is ready for prompt action 24/7.
Disaster Kleenup Better Restorations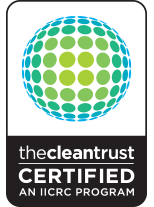 Specializing in emergency services for water and fire damage restoration since 1974, we're the experienced local professionals for residential and commercial disasters.  A California licensed contractor, our inspectors and technicians are IICRC (www.iicrc.org) and we maintain a large inventory of specialized restoration equipment.  We're also members of DKI, upholding their high professional standards and able to draw on other members for additional equipment, manpower, and expertise should the need ever arise.
Our crews are ready to take care of your furniture and belongings as well as the building itself.  And our extensive experience and training means that we can restore items others would have to discard.
We know you're going through a difficult time, so we never forget the importance of great customer service.  Our decades of experience also means that we know the ins and outs of all major insurance companies.  We'll work with them directly to save you time, worry, and headaches and there's no up-front payment.  We'll wait for your insurer's claims payout. And we guarantee our work.
24 HOUR EMERGENCY RESPONSE
Call our toll free number to get an immediate response to your emergency.
Fire and Smoke Facts
Every fire is different, requiring a cascade of decisions for the best in fire damage restoration, but smoke can be put into three major categories.  Depending on the temperature of the blaze and what's burning you could have wet, dry, or protein smoke… or some combination.  Burning buildings produce thousands of different chemical compounds, hundreds of which can be corrosive, toxic, cancer-causing, and odor-causing.  Smoke usually travels throughout the building, actually heading towards cooler areas and making its way through tiny openings to inside cabinets, inside walls themselves, into electronic devices, through heating and cooling duct work, and so on.  Settling on just about every surface it immediately starts corroding metal items (including components in computers and home entertainment systems), staining textiles, and posing health hazards.  If not thoroughly removed soon enough it will lead to additional permanent damage.  Many compounds penetrate into porous materials such as wood, and if they reach too deeply they can no longer be removed.  You can end up in a situation where you may have to discard more belongings and would still be stuck with smells that stick around for months or years.
Smoke and Odor Removal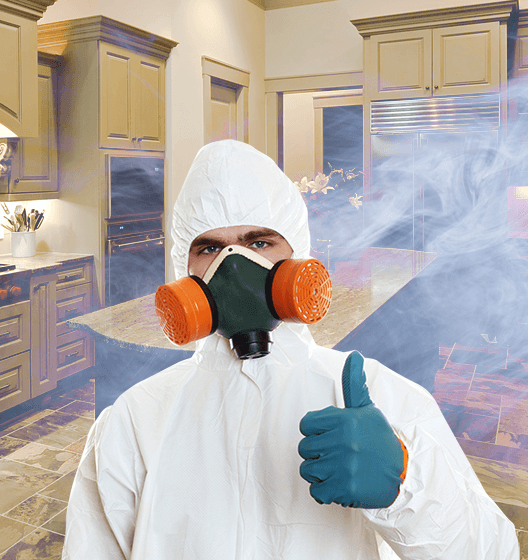 So smoke and odor removal are critical parts of fire damage restoration for furniture and other possessions as well as for the building.  Smoke removal must be done promptly and completely, without causing further damage itself.  By following IICRC standards and using our specialized equipment we always provide the most thorough and safe services.
Initial steps include carefully vacuuming off particulates, (soot and ash) protecting flooring and sponging off walls and ceilings.  We'll "chem-wipe" metal, glass, and items made of similar materials with special-purpose non-toxic cleaners.  We'll also bring in certified technicians for upholstery and carpet cleaning.  That's often pre-treatment, prior to our pack out services that remove furniture, bedding, drapes, and other belongings from a damp or contaminated environment for further treatment and storage at our secure facility.  Our licensed floor specialists are ready to rescue hardwood, marble, and stone flooring.  And our dry-ice blasting equipment is highly effective in removing char as well as smoke from building surfaces.  Throughout the process we'll use our air scrubbers to help prevent the further spread of contamination.
Smoke odor removal must remove or neutralize odor-causing compounds, not merely mask smells — many odor compounds take years to break down and dissipate.  Smoke can reach just about anywhere, and so can our unique thermal fogging and eco-friendly ozone generators.  We'll also take care of duct and HVAC cleaning, leaving your home or business healthy and completely odor free.